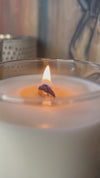 Hills in Highlands - Whiskey Vanilla Scented Wooden Wick Signature Tumbler
Shipping calculated at checkout.
"Driving through the hills of the Highlands only to find our destination was more than expected. We stopped for a tasting. The sweetness of vanilla balanced the richness of the embers and oak."
Our "Hills in Highlands" whiskey vanilla fragrance is one for the person who enjoys a smooth pour of whiskey. Though there are many different styles and origins, the essential aroma of whiskey is unmistakable. Also known as the "water of life," our Whiskey vanilla blend is an intoxicating blend of potent alcohol notes and smoked oak, tobacco and creamy vanilla.
Top:
 Whiskey
Middle:
 Vanilla
Base:
Tonka Bean, Oak, Smoke
10 oz soy wax
Sustainable, classic rocks glass container
60 hour burn time.   
Single crackling wooden wick